Principal's Message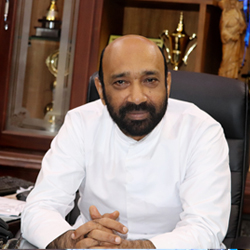 Rev.Dr.Santhan Charuvil
Welcome to the website of Sarvodaya Central Vidyalaya!
As you navigate your way through the site discovering what we have to offer, you will find answers to the many preliminary questions you may have about our school, our academic programme and student life.
As the Principal of the school, I feel honoured and privileged to be part of an educational institution where every stakeholder is a learner and every day is an opportunity to learn and discover. We look at ourselves as a community of learners, where everyone learns including our teachers, parents & staff.
Teachers at school and parents at home are equal stake holders in holistic education and we both need to be partners in this learning process of your child. Our endeavour is to teach each one of our students to redefine success – not by the absence of failures in life – but by overcoming them.
I welcome you to a partnership which aims at moulding our children into national citizens with a global vision.
I look forward to working with you as we help create a school where parents are welcome at anytime, students are engaged in meaningful learning and the staff members are valued and appreciated for their efforts.
With regards,
Rev.Dr.Santhan Charuvil