Principal's Message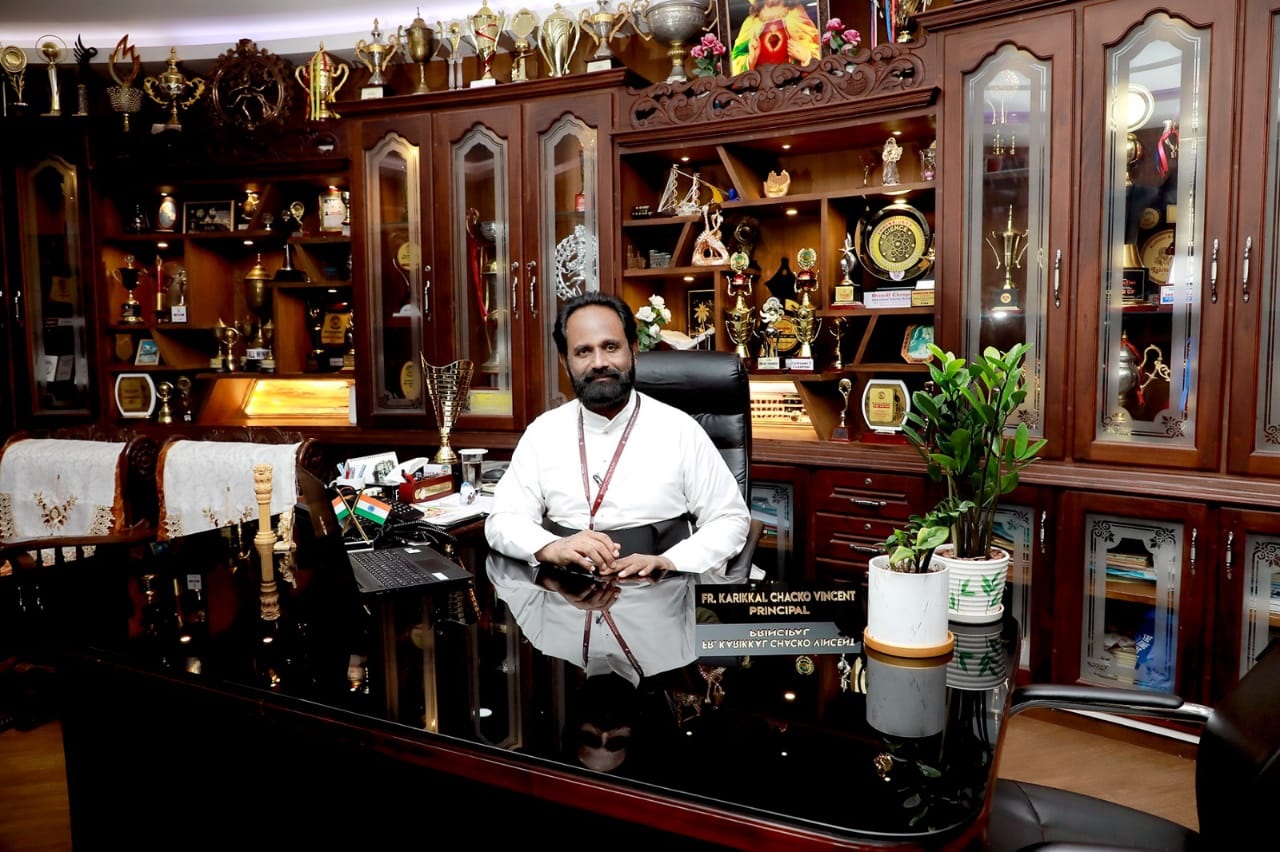 Rev. Fr. Karikkal Chacko Vincent
It gives me great pleasure to welcome you to "Sarvodaya Central Vidyalaya Website'. With immense pleasure I would like to unveil the vision and mission of our School. It belongs to the group of educational institution of the Major Archdiocese of Trivandrum .The Educational Institutions such as Mar Ivanios College of Arts and Science, Mar Baselios College of Engineering and Technology (Autonomous) , Mar Gregorio's College of Law, St. John's College Anchal, Sarvodaya Vidyalaya (ICSE & State Board), Sarvodaya Central Vidyalaya ( CBSE), St. Mary's Malankara Major Seminary, St. Mary's HSS, Pattom, Holy Angels' HSS,Adoor, St. Mary's HSS, Kizhakkekara, St. John's Model HSS, Nalamchira, St. John's Central School, Anchal, Cherupushpa Central School , Ayur ,Vimala Central School, Kalathara etc. belong to the group of Educational Institutions of the Major Archdiocese of Trivandrum.
His Beatitude Moran Mor Baselios Cardinal Cleemis Catholicos, the Major Archbishop of Trivandrum is the patron of the school. The school adheres to the motto 'Let there be light'. The objectives and vision of the school is that with its finest faculties, strives to ensure that they offer high quality, academically sound education by providing a variety of stimulating learning experiences. It also promotes an environment based on fundamental human values helping to foster a wholesome personality on intellectual, physical, moral and spiritual growth in making the students self-disciplined, self-reliant, independent thinkers, skilful communicators and ideal global citizens.
"Education is the most powerful means we have for the transformation of Society, "said Nelson Mandela. The goal of Education is the making of a complete human being endowed with human values, along with academic excellence. It is the process of creating a perfect man with noble character. Education is making of an individual intellectually trained, morally upright, service minded and socially committed citizen.
Education is a mission and those who are engaged in it especially teachers and Parents, lived it with a missionary spirit. The class rooms should become zones of solidarity where students respect and appreciate one another irrespective of caste, religion, region or colour. Teachers should become catalysts of this transition.
The popular adage," Matha Pitha Guru Deivam, literally means "Mother Father Teacher God". Our parents take us to the teacher-educator, who in turn points us to God. Teaching is a call because teachers are like Angels, leading their children out of darkness. The teacher is leading the role of a parent. The teacher-parent bonding is important for the holistic development of the pupils. It is important to know that," the parents are the teachers at home and teachers are the parents at school. When parents and teachers keep a strong relationship of trust, understanding and support, the students will develop a remarkable positive change. The core of education is the teacher-student relationship. A child needs to be open, humble, respectful, obedient, disciplined, hardworking, allowing themselves to be guided, and know the purpose of education and all these can be achieved through the teacher–student relationship. The child has to be trained to enter the world of wisdom and knowledge. He should be taught the values of hard work, sacrifice and commitment. Let us work together to uphold the vision and objectives of our School. I invite all Teachers and Parents to work together to mould the future worthy citizens of our Nation.
I extend my heartfelt gratitude to His Beatitude Moran Mor Baselios Cardinal Cleemis, the Major Archbishop-Catholicos of the Malankara Catholic Church and the Patron of this Institution, for his reaffirming support rendered at all times that assure peak performance without any compromises. I remember the fabulous support given by our Bursar Rev.Fr. Koshy Chirakarottu all through these years. I would like to put on record the incessant assistance and cooperation of all the teaching and non-teaching staffs that help me to run this institution to its awesome journey to excellence.
I express my special thanks to all parents to putting their faith and confidence in us.